OUR SPIRITS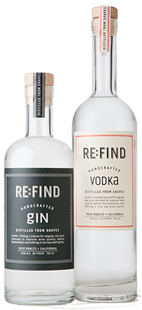 Handcrafted from vineyard to bottle is our definition of craft distilling. Distiller Alex Villicana personally planted his vineyard in Paso Robles, California and each year farms and harvests the grapes. He crafts the wine and does all the distillation of the spirits at his boutique winery/ distillery on Adelaida Road.
The majority of clear spirits are derived from grain and potato because they are inexpensive commodities and they grow in a substantially wider range of climates than premium wine grapes, not because they are the best ingredients to use. Re:Find Distillery has the luxury of starting with a premium base fruit, ripe red-wine grapes, which affords us the ability to craft superior spirits. Just like any artisanal product, quality begins with the ingredients used.
Clear Spirits

OUR VODKA
Distilled from Premium Wine Grapes
Naturally Gluten Free
One distinct benefit of vodka derived from ripe, red-wine grapes is the compound glycerol. Glycerol forms the 'legs' on a wine glass and has a sweet quality and opulent mouth-feel that gives our vodka a uniquely smooth, soft characteristic.
OUR GIN
Distilled from Premium Wine Grapes
Naturally Gluten Free
When making Re:Find Gin we start with Re:Find Vodka as the ultra quality base. The Re:Find vodka is placed back in our copper still and we then add, through a vapor pass, a proprietary blend of botanicals including juniper berry, coriander, orris root, lemon & orange peel, grains of paradise, and lavender to impart a rich gin flavor. Due to the unique character of our wine grape based spirit, our gin has a soft, sweet, lingering finish. Sustainability is the catalyst of this project, so we source most of our botanicals from farms on the Central Coast of California.
SEASONAL FLAVORED SPIRITS
Distilled from Premium Wine Grapes
Naturally Gluten Free
Seasonally Inspired, California Grown, Vibrantly Flavored
Staying consistent with our sustainable roots, RE:FIND Distillery is crafting vibrantly flavored spirits using seasonally grown California fruit, produce, and botanicals. We rely on the expertise of our local farmers to harvest the produce at its optimum ripeness which translates to a more flavorful spirit. All of our seasonal spirit use only natural ingredients and are distilled by our distiller, Alex Villicana in Paso Robles, CA. Naturally Gluten Free.
Release Dates:
April – Limoncello
July – Cucumber Flavored Vodka
November – Kumquat Liqueur
BARREL FINISHED VODKA [e]
Distilled from Premium Wine Grapes
Naturally Gluten Free
Re:Find takes their luxury vodka and finished it in a combination of new and used rye whiskey barrels resulting in a unique vodka that can be enjoyed like a traditional whiskey. Why [e]? It represents the [e] in whiskey that is sometimes dropped depending on where it was distilled.
"The base is distilled from red wine grapes, and the vodka is then barrel-aged. The end result is an experimental bottling that looks, smells and tastes like a young Bourbon. Itís oak-forward at first sip, but finishes round and luscious, with plenty of caramel and cinnamon-clove sparks. Slip it into a blind tasting alongside traditional whiskey and watch Bourbon-lovers lose their minds." - Wine Enthusiast - October, 2016
Whiskies
RYE WHISKEY
A California Whiskey
Re:Find partners with small, California artisan breweries to obtain a custom mash bill for our Rye Whiskey. Re:Find ferments, distills, and ages our whiskey at the distillery in Paso Robles. RE:FIND Rye is aged in small cooperage resulting in a memorable, well-balanced whiskey with a touch of spice.
BOURBON
A California Whiskey
Batch #1 - Sold out
Shhh - Batch #2 is currently aging in 10 gallon barrels to be released late 2018.
---
Distribution
RE:FIND Handcrafted Spirits are distributed to restaurants and fine liquor store by the following distributors: